OK, before I get to the picks, here are some residual thoughts from the ALCS.
After finally catching up on what seemed like 15 minutes of sleep in the past four days, today I had a chance to think about some of the ancillary stuff I overlooked at the time, but in retrospect I think is pretty interesting.
First, here's an email I found in my inbox at work Thursday morning from one of my buddies (it was date stamped 8:09 PM EST WEDNESDAY OCT. 20 2004):
The game is about to start and I am curled up in the embriotic pose on my couch...an absolute head case. In about 5 hours (the average time of these games) I'll either have a broken hand and a hole in my wall, or I'll be the happiest man in the Northern Hemisphere. Making it even more sweet would be the knowledge that I won't have to listen to hundreds of gloating Yankees fans in my NY office tomorrow...fans that have been pretty quiet the last few days.

I'm predicting a Johnny Damon home run will play a big role tonight (sort of Aaron Boone-esque)...Here's to me having two functioning paws tomorrow. Go Sox
Good stuff. Too bad he didn't write it a year earlier. Which reminds me, while I'm extolling prognosticatory skills, I can't leave out my main man, Doug. This is what I wrote after the Sox were down 3-0 in the series:
I was talking to my friend Doug before Game 3 and I was telling him how this series is all but over. And I wasn't being cynical or negative when I said it; I wasn't yelling about how lucky the Yankees are and how unlucky the Red Sox are; I was very matter-of-fact, very accepting (yet again) of my fate as a Red Sox fan. As I finished up my 2004 eulogy, Doug offered the following, "If the Sox can sweep the Yankees at Fenway, they'll be right back in it." To which I responded, Well, if the Red Sox just go ahead and win four in a row, they'll win the series too.
So once again, Doug was right, and I was wrong -- big deal. But you know what, I'm big enough to admit I'm wrong if it means the Sox beat the Yankees (but not for anything else).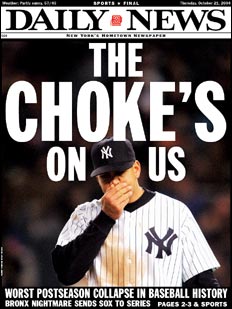 Something else I subconsciously remember thinking during the series (can you remember something subconsciously?), was how important Derek Jeter is to the Yankees. And even though I had begrudgingly given him props in the past for being a "really good player," I was never willing to consider him a better shortstop than A-Rod, Nomar and Tejada. Well, a couple of things have since changed my mind. First, despite not having a great series statistically, it was easy to see why he's the captain of this team; he's always making plays, he's always pressuring defenses, and he's never once shied away from being
the guy
in game-changing situations. Second, next to Jeter, A-Rod looks a lot more like
Mike Blowers
at third base than he looks like, well, A-Rod. I mentioned this after game six, but I think it was even more evident during game seven; for being the best player in the universe, A-Rod left a lot on the field. In fact, he was awful after game three, when the series started to get tight.
The fact that Jeter and A-Rod both play on the left side of the infield are where the comparisons should end, and I think the ALCS proved as much. Of course all of this is anecdotal, but watching these games I got the distinct impression that A-Rod was playing with a chip on his shoulder; that he had the sense that people were coming to the realization that maybe he wasn't as good as advertised, and he was going to prove them wrong. Of course in the process, he ended up looking like an arm-flailing maniac who's best chance of getting on base involved karate chops.
Here's a
quote
from yesterday's
New York Post
:
He is the guy who fled Seattle and the Mariners got better, forced his way out of Texas and the Rangers improved, and joined the Yanks and The Curse ended. He said afterward that it is a team game and he is "just one out of 25 players." But that surely was not his negotiating strategy when he got $252 million, was it - I am just one of the guys? Or when he used his status to shed the Rangers. And he is never going to be just another guy in this rivalry, not after coming so close to being a Red Sox only to bring further dismay to New England by winding up a Yankee.

He so badly wanted into this rivalry, first as a Red Sox, then as a Yankee. Another warning to be careful what you wish for. Because starting last night a new reality had swept baseball -- The Curse of A-Rod.
Welcome to New York.
The funniest bit I heard about the whole A-Rod thing was from Mike Lupica on PTI before game 7. He was uncharacteristically lucid when he said the following:
"How about A-Rod last night, standing on second base clapping after he hit the ball 50 feet after trying to slap the ball out of Bronson Arroyo's hand. Hit the ball over the fence."
Nice.
***
Skip Sauer
mentions something about game seven that bothered him -- and at the time it also bothered me...but then again, everything bothers me. Anyway, here's what Skip
wrote
:
I respect the Yankee players, but not their fans' lording over the Red Sox these past few years, nor the organist prompting the crowd into the "Who's Your Daddy" chant. If the chant is home grown, that's one thing (as in English football). But that was a low blow from what should be a classy organization.
I was thinking the same thing when Pedro was getting slapped around the park (about the chant, not the fans). I quickly dismissed it because I just figured it was part of "the rivalry." I like Skip's perspective better -- except the part about respecting
all
the Yankee players.
***
OK. Finally, the picks for week 7.
Last week
I was 7-7 and I've now earned a whopping $100 (imaginary of course), and from where I'm sitting, that's actually good. This week the Steelers are off, but it doesn't mean I won't make the same craptacular picks as any other week. So here goes:
| Home | Away | Line | Pick |
| --- | --- | --- | --- |
| KC | ATL | -3.5 | ATL |
| BAL | BUF | -6 | BUF |
| TB | CHI | -6 | TB |
| NYG | DET | -6.5 | DET |
| IND | JAX | -9 | IND |
| CLE | PHI | 7 | CLE |
| CAR | SD | -3 | SD |
| MIA | STL | 6.5 | STL |
| MIN | TEN | -7 | TEN |
| NE | NYJ | -5.5 | NYJ |
| GB | DAL | -4 | GB |
| OAK | NO | -3 | NO |
| ARI | SEA | 7 | ARI |
| CIN | DEN | 4.5 | DEN |
Season: 45 - 40 - 3
Last week: 7 - 7
Earnings to date: $100
Week 1
picks
Week 2
picks
Week 3
picks
Week 4
picks
Week 5
picks
Week 6
picks