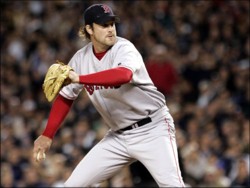 So this is what it feels like. Hmmm. It's a lot different from this side. And this is definitely the first time I've actually watched the post game celebration. Here's the thing about winning the
ALCS
: Manny, Varitek and Trot were a combined 3 for 15 with no RBI --
and it doesn't matter
; Pedro gave up two (seemingly big at the time) runs in an inning --
and it doesn't matter
; Francona is either the dumbest smart guy, or the smartest dumb guy ever to manage a team --
and it doesn't matter
. For the first time in a long time, it doesn't matter, because the Red Sox finally won. And I feel like I just got run over by a truck -- but in a good way. Anyway, here are some random thoughts I had during the game:
...It seems like Papi's bomb in the first inning took place two weeks ago. I remember thinking at the time that despite Dale Sveum's best efforts to get every baserunner thrown out, the Sox were still able to score when Ortiz lost one into the right field seats.
...What a predicament Kevin Brown put Joe Torre in. Brown started the season 5-0, then was one of two people in the world to come down with intestinal parasites, comes back from that and punches a wall, and then proceeds to get shelled silly after he returns. This is the runner up for the line of the night:
1.1IP 4H 5ER 2BB 1K 21.60ERA
...What do you think Brian Cashman was thinking when Damon hit a grand slam on Vasquez's first pitch? I'm guessing it was something like, "Should I start cleaning out my office now, or wait until a commercial break so the cameras don't catch me?"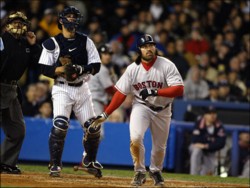 ...When Damon hit his second dong, I yelled "upper decker" before the ball landed. The double-entendre wasn't lost on my wife, but it's funny when you're winning.
...Where has Derek Lowe been? What a game. If not for Schilling's game six, this might be one of the all-time great playoff pitching performances ever. If Lowe wasn't making batters miss, he was getting weak ground balls. Which reminds me, after about the third medicine ball Millar fed Lowe as he was covering first, I was convinced he was intentionally trying to get him killed. Luckily A-Rod wasn't ever
flailing
down the line when Lowe was covering the bag.
This was
the
line of the night:
6IP 1H 1ER 1BB 3K 3.18ERA
...Here's what I wrote in the bottom of the sixth: Jeter: ground out. A-Rod: ground out. Sheffield: strikeout. Unbelievable.
...Was that Jim Leyritz or
Joe Pantoliano
in the stands? And why was he wearing a Red Sox patch on his 1988 bomber jacket but claiming to be pulling for the Yankees? I was waiting for Torre to make him pinch hit.
...I can't say enough how amazing D. Lowe's performance was tonight. What was even more amazing though, was Francona taking him out after the sixth. Maybe Francona was using Jedi mind tricks, because not only did bringing in Pedro mean he's not pitching Saturday, but it also meant that Yankee fans could yell "Whose Your Daddy?" as New York mounted a mini-comeback. Which led me to this observation during the seventh: "There's nothing like seeing a bunch of middle-aged white guys yelling 'who's your daddy.'"
...Note to self: Finish writing "
Dear Mark Bellhorn
" letter.
"Ohhh, was that ball hammered."
McCarver describing Bellhorn's in the seventh.
...When he relieved Pedro, I remember thinking, "Timlin is going to drive me to drink." This guy loves 3-ball counts as much as Bellhorn seems to love 0-2 counts. But the guy made some clutch pitches in the eighth, and Mientkiewicz made a great pick on a tough throw from Mueller to get Jeter leading off the inning.
...I think it's fitting that Pokey made the last putout. I don't know why, but I do.
Man, I'm exhausted. Well, we'll start all over again Saturday -- but for the first time in a long time, without the specter of some big fat guy named George, and perhaps more importantly, without the Yankees. Good stuff. Finally.