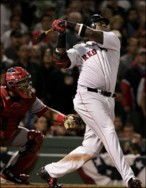 ...and said, can he hit a home run here?" Oh, the prescience of Terry Francona. This was the question he asked about a millisecond before
David Ortiz
parked a Jared Washburn curveball over the Monster.
So apparently, Francona is good for something -- namely asking Millar if he thinks certain players can hit the ball a long way. Whatever the case, I don't care because the Red Sox swept the Angels -- and in the process helped stave off the
inevitable
"curse of the bamb-" (I refuse to even mention it here) that would have
inevitably
followed a game three collapse.
Here are some thoughts from the game:
...Was anyone else surprised to hear Gammons talking about
his band
? I readily admit to not being the coolest guy in the world, but when did Gammons form a band? This actually leads me to believe that maybe I should look into starting a band (and I already have the
name
)
...Anyway, back on earth. How good is Bronson Arroyo? I occasionally (OK, almost every time he pitches) get frustrated with Arroyo because he'll be inconsistent and start walking people. This usually ends up with me cursing at the television imploring him to throw strikes. My friend Andy (who is a Yankees fan) pointed out to me that Bronson's: (a) a pretty good pitcher, and (b) really young. And tonight Bronson proved (a) in spite of (b). And consequently, I will: (a) shut up, and (b) send Arroyo a written apology explaining why I am a jerk.
Don't let all this pablum obscure my point -- Arroyo did a great job tonight and he deserves a lot of credit for not only pitching the way he did, but also his effort now allows the Red Sox to rest up and trot out Schilling and Pedro against the Yankees -- yeah, I know, that series isn't
over
. But we all know it
is
over (nudge, nudge, wink, wink).
...In my mind, Keith Foulke has been straddling all season that imaginary line that delineates the Red Sox I like versus the Red Sox I want to strangle. For most of the season Millar and Lowe were the only two Sox I wanted to throttle. But even they've come around (for the most part) to such a degree that I've had to retract a lot of the crappy stuff I said about them. Foulke is actually more infuriating than either Millar or Lowe, because -- at least during the first two-thirds of the season -- you knew what you were getting with Millar and Lowe (a fat guy who could occasionally hit and a mental case who couldn't focus).
With Foulke however, you never know what you're getting with that guy. And here's a question I've had since about April. How does he get people out with an 85 mph fastball? Anyway, Foulke is now my new favorite player. I was all set to throw my TV out the window after he walked the bases loaded. But then he went nuts and struck out Garrett Anderson and Troy Glaus (OK, now you can insert your jokes concerning what must go on inside my head).
...When did K-Rod get Rec-Specs? I thought Chris Sabo came out of retirement. That said, man, that guy has a nasty curveball made the Red Sox look silly until Scoscicia took him out.
...I remember thinking when David Ortiz beat out an infield single in the 8th, that Francona should leave him in because (a) K-Rod is tough and this game could very easily go into extra innings, and (b) Sutcliffe thought it was a good idea to take him out. Remember in that Seinfield episode when
Jerry tells George
, "If every inclination you have is wrong, then the opposite must be right!" Note to Rick Sutcliffe: follow this
advice
.
...How good is Johnny Damon? I was half-kidding when I said earlier
this week
that he should be league MVP, but this guy has really put up some solid numbers. That said, I don't think anyone should be allowed to win the MVP if they can't throw the ball 100 feet in the air (I know, I know, that's the baseball purist in me talking).
...And I almost forgot my main man (for now), Derek Lowe. Seriously though, he came in and gave up a laser to the deepest part of centerfield and then promptly made some very good pitches to get the Sox off the field. I'm sure it's hard to effectively be demoted, but I have to give him credit for sucking it up and doing his job.
...And oh yeah, some guy named David Ortiz got a hit too.
Good stuff.