OK, last week I tried to
temper my praise
for Ben Roethlisberger after his second consecutive solid game, but this guy is making it increasingly difficult to believe that he will be anything but the starter from here on out -- regardless of Maddox's health. His pocket presence, his awareness, and his ability to find the open receiver are all years ahead of his experience -- especially when you consider he's spent three years in the MAC, primarily in the shotgun.
What's also encouraging is that Roethlisberger seems to look for Plaxico a lot more than Maddox. And let me say this right off -- when I watch the game on TV, I have no idea what kind of coverages the defense employs, who the primary receivers are on the plays called and how well Roethlisberger goes through his progressions -- so maybe there are reasons why Plax is seeing more balls than usual. Of course it also seems like Roethlisberger is getting a lot more time than Tommy's had in his game and a half this season and all of last season. One thing that worries me however -- and maybe others have noticed it too (or maybe I'm just imagining it, who knows), is that Hines may be getting fewer catches as a result. It seems like Ben first looks to Plax and then looks to either Hines or Randle El. And this could simply be a function of Plax being 6'5" and Hines and Randle El not being 6'5" combined. If I had to wager, I'd put money on me not knowing what the hell I'm talking about.
Whatever the case, there's really not much to complain about -- the Steelers are 4-1, the defense is coming together, the running game is returning, and Roethlisberger has exceeded everybody's expectation's, and the season's only five weeks old. Anyway, here's the good, the bad, and the ugly.
The Good
Ben Roethlisberger
. Big surprise here, right? Roethlisberger's line reads 16/21 231 yds 1 TD 1 INT, and his one interception was about as much his fault as Duce Staley's two fumbles last week. Said INT went right through Randle El's hands and was promptly returned for a TD.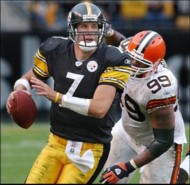 A quick aside: I've been reading for three years now that Randle El has the best hands on the team (and Ben said exactly that in the postgame press conference), but this guy has almost as much trouble hanging onto the ball as Kerry Collins (OK, not really -- in fact, not even close, but you get my point). Remember last year in the must-win game against the Bengals in Heinz field when Charlie Batch came in for a series and threw a TD pass to Randle El -- except he dropped it? OK, I'm beating a dead horse here (and let me be clear, I like Randle El a lot, I just get frustrated when crappy stuff like that happens more than it should).
Anyway, Roethlisberger didn't come close to throwing a pick (other than the aforementioned), made solid decisions and made at least two unbelievable throws to Plax (while rolling right) and one solid throw to Hines at the end of the first half. OK, OK, enough with all the brown nosing (it's even making me sick).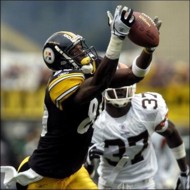 Plaxico Burress
. First things first. Plax's season to date can be kindly described as pedestrian. That said, you have to respect him because he has never once complained about the gameplan (see last season), the fact that Hines was seeing most of the early action (Plax readily admitted that it was Hine's team), or that the Steelers were going to return to running the ball more often. Well, today was "
Plax Payback
" day because this might be his biggest game since either the first game of the 2003 season, or the 2002 Falcons game. Whatever the case may be, Plax made not only two spectacular catches, he had four other catches that looked to be textbook (whatever 'textbook' means). And what seems to be different about Plax 2004 when compared to previous versions, is that he hasn't dropped (or even bobbled) any passes thrown anywhere near him (unless of course you count when he's been chop-blocked or he's been the recipient of a helmet-to-helmet hit that invariably wasn't called).
One other thing, has anyone else noticed that this is the first season Plax has worn receivers gloves?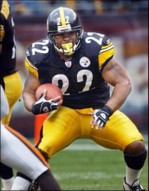 Duce Staley
. The more this guy plays, the more you have to like him. He might very well be the toughest non-offensive linemen on the team (I mean really, he can't be tougher than Alan Faneca). The first series basically set the tone for the game when he broke a 25-yarder for a TD. And this is against allegedly one of the best run-defenses in the league.
(Let me state for the record however, that I think the Browns having one of the best run defenses is somewhat misleading. First of all, in the Ravens game, the Browns begged Boller to throw the ball and literally put nine guys in the box. That's about the only way to stop Jamal Lewis -- well, that and cocaine. Against the Cowboys, Dallas was without their first pick, Julius Jones, and Eddie George is about as easy to stuff at the line of scrimmage as Amos Zereoue circa 2003)
And congrats to Duce for gaining 100 yards for the third consecutive game, which is something he's never done before in the NFL. I'm not sure if he was hurt late in the second half, or if Cowher was giving him the afternoon off, but either way, I think it's good to get Jerome Bettis some work -- and that seemed to be as good a time as any.
update:
In today's
Post-Gazette
,
Ed Bouchette
writes that Cowher did in fact give Duce the second half off, and that Staley's big toe is fine.
One thing that's interesting to note however, is that we haven't seen Duce catch a lot of balls out of the backfield. This may be by design, or maybe teams are game-planning against it (that makes a lot of sense, right? Can you see opposing coaches saying, "we'll let Hines or Plax beat us deep, but under no circumstances will Duce beat us catching balls out of the backfield!), but it might be something to look for as the season progresses.
The defense
. OK, I know what you're thinking. If I categorize the whole team as
Good
, what else will I talk about. Hmmm, I'm guessing I can come up with something. Anyway, to say that the defense is light years ahead of the 2003 unit is like saying that Jeff Garcia is kinda bald. I sound like a broken record when I say this, but it's really worth repeating: speed and athleticism can make up for inexperience in the secondary. Hope and Polamalu both had solid games, didn't miss tackles and did a good job in coverage.
And I'm convinced that Chad Scott's body has been invaded by aliens because he's had a good season to date (I know he got burned in the second half, but he was about a fingernail away from making a great play -- and who the hell thought Garcia could
punt
throw the ball that far?).
I don't know if teams are throwing away from Deshea, but I have yet to see him get beat in coverage. Every deep pass thrown in his direction has him running stride-for-stride with the receiver.
And although the defensive line gets very little ink, they are the anchor of this unit. I love how Casey Hampton was dropping into zone coverages and making a lot of downfield tackles. In fact, on one play down the field, I actually saw sparks flying from between his legs because of all the friction (Honestly, the Steelers might want to look into getting him a pair of fire-retardant pants to avoid future potential hazards -- but that's just a suggestion).
And despite Gerry Dulac's
Armani suit simile
, I thought the linebackers were solid -- especially Haggans and Porter -- who got some pressure on Garcia. And even though he wasn't easy to sack, the pressure did force him into hurrying some throws.
The Bad
Antwaan Randle El
. OK, I know this is a stretch, and other than the gift INT-turned-TD, Randle El had a decent game. He had two catches (one for a first down) for 29 yards -- but still has yet to break a punt return. But as I said
last week
, that's certainly not his fault. When you have cover teams out-running the punt -- in addition to a lot of Steeler penalties -- it's hard to have a lot of big returns. Just wait.
Oliver Ross
. This is actually kind of unfair, simply because Ross has played really solid at right tackle the entire season -- and also because the Steelers played so well that it was hard to find things to bad-mouth. Anyway, the only problems I had with Ross were his two big penalties that stalled drives. Holding is one thing, but he also got a personal foul (for a blow to the head after the play) that just can't happen. But like I said, it's somewhat unfair, and this guy has been very good on the right side.
The Ugly
Jeff Garcia
. Yeah I know, he doesn't play for the Steelers, but I'm making an exception this week. This guy is having a tough time adjusting to the Cleveland offense -- of course this might have something to do with the fact that the Cleveland offensive line stinks, but we'll file that under semantics. Seriously though, the Browns offensive line is doing him no favors, despite the fact that the Browns have an underrated receiving corp and three really good running backs. But back to Garcia. What's up with the cafeteria worker hair net? Is that supposed to hide the fact that he's bald? At one point he was sitting on the side lines with his helmet off and his hair net on serving macaroni and cheese to some of the players. Not really, but I think he and Testaverde made history a few weeks ago when the Cowboys played the Browns. (Unofficially) I think it was the first time in NFL history that two white guys wore hair net's on opposing teams. All I know is, I'll be able to say, "I remember where I was when Vinny and Jeff made hair net history."
Bill Cowher
. I love what Cowher's done this season and I've always like him as a coach. But for the love a God, can someone please get him out of the two-tone mock turtleneck with "Steelers" emblazoned across the front in 400-point font? Couple that with the white shoes he seems to be fond of and he's the Pittsburgh version of Jerry Seinfeld. But hey, if he keeps winning, he should be able to trot out of the tunnel in a pink tutu without me blabbing about it.
Well, that's all I've got. This was one of the best games the Steelers have played in a year and a half, and it's a good thing because I don't want to be the bearer of bad news, but...(there's always a but, right?)...next week Pittsburgh is in Dallas, have their bye week, and then play New England and Philly at home. If they can somehow manage to get through that stretch at 2-1, things could really start to fall into place down the home stretch. But let me shut up before I get to far ahead of myself. For now, I'm just going to enjoy this one.