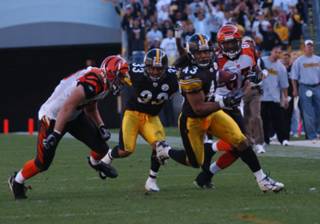 I haven't seen today's papers, but I can only guess that yesterday's game was the unofficial beginning of the "Ben Roethlisberger Era."
He
was 17/25, 174 yds and 1 TD yesterday and outplayed his first-round counterpart, Carson Palmer. So while Jon Kitna has accepted his fate (at least for now) as Palmer's backup, Tommy Maddox is probably the only guy in Pittsburgh who thinks he'll be starting when he returns in four weeks from an elbow injury. I said this last week and it's probably worth repeating -- I suspect the Roethlisberger - Maddox situation will evolve into what happened last year in Jacksonville. Namely that Byron Leftwich replaced an injured Mark Brunell a few games into the season, and Brunell never regained his starting job.
Now, I have no idea what was discussed during Maddox's contract negotiation, but someone somewhere had to make it clear that Maddox, in all likelihood, would not be the starter after 2004. And I'm sure Maddox was hoping to use 2004 to showcase his abilities and maybe parlay that into a starting job somewhere other than Pittsburgh in 2005. Ok, I'm getting a little ahead of myself, but here's the point: Not only do I think Maddox won't start another game this year (barring an injury to Roethlisberger), but now he doesn't even get the chance to show he's a capable starter. The good news is that he'll be a solid backup for Roethlisberger (of course, I'm sure Maddox wouldn't consider that good news) even if he's not a great mentor
[A quick aside: I don't know if Maddox would be a good mentor or not; I just hate it when commentators say things like, "Young player X will learn so much from the grizzled veteran he's replacing at QB -- that guy has so much knowledge to share." Whether a grizzled vet has a lot of knowledge or not, why would he be eager to share it with some young guy that stole his job? I always think it's funny when announcers say this kind of stuff and it always makes me wonder exactly what the QBs talk about when they huddle on the sideline during timeouts or changes of possession.]
Anyway, that's all I'll say about the impending Roethlisberger/Maddox soap opera for now. I'm sure in the coming days and months that will be all the Pittsburgh media will talk about -- in between Mark Madden talking about how many Krispy Kreme's he can eat in one sitting (I think his current record is 435).
Oh yeah, the Steelers beat the Bengals yesterday -- and they won two games in a row for the first time since 2002. And despite the fact that this game was decided in final minutes, it could have been over much earlier if not for two very untimely fumbles by Duce Staley (one of which led to a Bengals TD). Here's a look at the good, the bad, and the ugly:
The Good
Ben Roethlisberger
. First start at Heinz Field and he was 17/25 for 174 yds and 1 TD. He was sacked once, and that sack was almost
the play of the season
(after avoiding the initial pass rush, Roethlisberger spun to his left and hit Plax for a 60-yard gain; unfortunately, it was called back because after review, Ben's knee was down by contact before he threw the pass). He showed a lot of poise, made good decisions, and wasn't even close to having a pass picked off (he did overthrow Plax on a deep ball, but otherwise, most of his throws were right on the money). As I mentioned above, if Ben keeps this up, Tommy's probably started his last game.
Plaxico Burress
. I've been waiting all season for Plax to get some opportunities and it finally happened against the Bengals. He had four catches for 69 yards and would have a lot more yards if not for some misfortune (see above). This guy has played well all season, he just hasn't had a lot of opportunities. Of course I have no idea how things will turn out this offseason, but I hope the Steelers are able to make a real effort to keep this guy.
Antwaan Randle El
.It's easy to overlook Randle El because he's only 3 feet tall, but this guy is so consistent on special teams, you almost expect every punt to be returned for a big gain. And he's also become more involved in the passing game -- and thankfully less involved in the Mularkey-esque triple-reverses that would go for 8-yard losses in seasons past -- and it seems like Ben looks for him more often than Maddox has the last few seasons.
Troy Polamalu
. Cowher said in his postgame press conference that Troy's gotten better every game this season and I can't disagree with him. I love watching Troy hit guys at the line of scrimmage -- especially when he's the fifth guy to hit a running back after he's stopped his forward progress. He could have had two INTs returned for TDs yesterday, but he let one slip through his hands in the first half. Either way, he's solid, and I remember thinking after his 4th quarter TD, "I wonder if Brent Alexander would have (a)made the INT, and (b)returned it for a TD?" I'm pretty sure I know the answer to both questions.
I should also mention Chris Hope here. I think it's important to recognize anybody who hits an opponent so hard that his own helmet comes off. It's amazing what a difference a year makes when talking about the safeties.
The Bad
Duce Staley
. Staley could very easily have been in the above category, but he had two really big fumbles that not only stopped momentum, it led to Bengals points. That said, Staley ran the ball 25 times for 123 yards. What's funny to everyone but Duce is that Jerome again did his Zach Crockett impression and carried the ball six times for nine yards and two TDs. Despite the turnovers, it's still good to see the Steelers move the ball on the ground -- even if it is against one of the worst run defenses in the NFL.
The Ugly
Kendrell Bell
. There really were no glaringly crappy performances yesterday, but I'm tired of hearing that Kendrell Bell is
still
hurt. I've known guys that have recovered from by-pass surgery quicker than Bell has come back from a groin injury. It's frustrating, but on the upside, Larry Foote has been doing a solid job. In fact, he led the Steelers with 11 tackles, and also had the team's only sack. If that wasn't enough Foote also forced a fumble and knocked down a pass.
Anyway, this was the first time in a long time (maybe since the Chargers game last season) that the Steelers looked to be in control the whole game -- even when they were down 17-14. And even though it's only the fourth game of the season, this was a really big win -- especially given that the Browns beat the Redskins and the Ravens will play the only defense capable of making Kyle Boller look almost as good as Trent Dilfer. Good stuff.