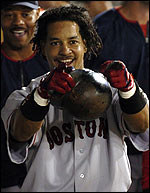 Here come the Red Sox. Manny drilled a
pitch off his knee
Friday night (do you know how hard it is to foul a pitch off your
knee
? Maybe it's commonplace on Mars, but on earth you hear about it as often as you see Halley's comet), but the
Sox continue to roll
as they swept the Tigers this weekend (I've put off as long as possible writing anything about the Sox for no other reason than I didn't want to jinx them. Well, I'm throwing caution to the wind). Not only that, but the Yankees lost and Boston is only 4.5 games back. All right, enough with the celebrating.
Changing gears a bit,
Dan Shaughnessy has a story
in yesterday's
Boston Globe
about how fans and the media are no longer calling manager Terry Francona things like Fran-coma and Gomer Pyle now that the Red Sox have won 14 of their last 17 games and 17 of 21 all seems to be forgotten -- at least for now.
Of course, Francona understands that things can change in a hurry if Boston's luck takes a turn for the worse:
Francona doesn't expect his mail to reflect the upswing. It'll take a few more weeks; plus, happy fans are less likely to write. He remembers this from his days of managing the Phillies.

"When people take the time to write, it's usually not good," he said. "They're venting. I would say the mail here is pretty similar to Philly. I mean, there's only so many ways you can say [expletive] or [expletive]. That's the way it is. But in Philadelphia, I got one of those nasty ones from a priest, and that hasn't happened here. So, I guess it's worse there.
And despite all the clever nicknames Red Sox fans have for Francona, he's smart enough to know that sports radio is for the most part a crock.
"I think I have a pretty good perspective on that," he said. "I think it's great for what we're doing because it creates interest. But I also know that the guys that do it are experts on football, basketball, hockey. I just want to be good at baseball. From what I've heard in the past -- and I'm a big basketball and football fan -- and I've turned 'em on in the past by accident and I've heard what they're saying about baseball? And I tell myself, `[Expletive], if that's how they're talking about football, why would I listen to it?' 'Cause they don't understand about baseball. I know they need to make the phones light up. That's OK. So really I don't listen to it that much."
Truer words have never been spoken. Francona is exactly right -- sports radio guys
do
need to make the phones light up to increase listenership which leads to higher revenues, blah blah blah. But the thing is (and this is the same argument I have against political ads), people either believe what they hear on radio or are too lazy to question crazy accusations made by the host(s) (I'll use my old standby Mark Madden. This guy makes a living out of saying stupid stuff on the radio and he's parlayed that into a full-time job that may actually lead a
gig with a national audience
).
But hey, the good news is that (a) Francona actually isn't really in a coma and (b) the Red Sox are winning (dear Lord, please don't let me jinx the Red Sox by talking about them).
Unfortunately, the bad news is that talk radio still has its fair share of idiots saying ridiculous stuff, but the bright side of that I guess, is I'll always have a source for posts.