Here are two things that I don't really have a problem with:
Jay Payton stating publicly that he wants to be traded, and

The remarks made by Keith Foulke to the Hartford Courant concerning his paycheck.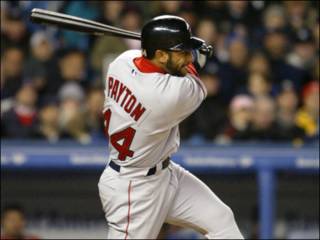 Jay Payton is a great defensive outfielder who by all accounts would probably be starting on most teams. In fact, he's averaged over 450 at-bats in four of the last five seasons while hitting .285 (OBP - .335). And look, it's not like he's that crackpot Steve Kline from the Orioles (you know, the guy who, while in St. Louis, allegedly gave Tony LaRussa the finger last season, signed with the Baltimore last off-season, and then proceeded to blast his new city and pine for his glory days in St. Louis) -- Payton was part of a trade, that ironically, sent Dave Roberts -- who wanted to be traded because he too wanted to start -- to San Diego. I'm guessing if he had any say, he would've preferred to land someplace where he'd see the field more than once or twice a week. Whatever the case, he's going about it the right way.
Instead of the T.O. - Drew Rosenhaus approach (which I think includes pouting, whining to the media, portraying yourself as the victim, and then more pouting), Francona has this to say about Payton:
"He's very upfront, very honest with me. At the same time, he's been really respectful about it. He'd just like to play more. I understand that."
I can certainly respect that. And I can also respect the fact that Payton wants to play everyday. Personally, I think he fits in well on this Red Sox team and would love to see him around for the rest of the season, but unless Trot, Damon or Manny go down with injury, Payton will probably play primarily against tough lefties.
Apparently some people have gotten their
panties in a knot
because of Keith Foulke's comments last week. In case you missed them, here's
a quick recap
:
"Honestly, what I like about closing, I love the first and 15th (days of the month)," Foulke said. "It's payday."
Hey, me and Keith Foulke have something in common (other than the fact that we both own 75 mph fastballs) -- that's what I like about my job too. Look, just because you see a guy on television six nights a week throwing a baseball doesn't mean that it's not a job. For most people, if you do anything 300 days a year for 10 years, it probably tends to get a little tiresome. Conservatively, I would estimate that I try to rationalize taking a day off from work at least three times a week. Of course I don't do it (at least not three times a week, anyway), but to borrow a line from Danny DeVito in
The Heist
, "Everybody needs money. That's why they call it money."
Foulke also made some comments about his sometimes
icy relationship with the press
:
Even more troubling to some is the surly attitude that Foulke has brought to the table in his second year with the Sox. Haunted by questions about his health most of the season, Foulke has denounced the media, refusing to talk about his performance.





Unless, of course, the price is right.





Earlier this week, Foulke explained to the Hartford Courant why he continues to do a weekly interview with Boston radio station WEEI despite his anti-media stance.





"That's more answering questions about different things," Foulke told the Courant. "And I get a free truck. If you give me a free truck, I'll talk to you more."
Actually, I think this is funny. I don't think Foulke is obligated to talk to the press, and I know I've never picked up the paper hoping to see some comments from Foulke. The only thing I want Foulke to do is get people out, something he's been quite successful at this past month.
Unlike my job, Foulke and every other professional athlete has to spend time before and after "work" talking to reporters. Can you imagine having to talk to people at work prior to starting your day and spending 30 minutes talking to them again before you left for home? And not only that, but all the questions were about why you sucked at your job the day before, or why you sucked at the job you just finished. Sounds like a lot of fun.
I don't begrudge Foulke in the least. As long as he's not breaking the law, getting bombed before games, or making Bruce Springsteen videos, I don't care if he chooses to avoid the media. As long as he pitches well, he can wear a Chewbacca costume on the mound. If it takes that and not talking to the media help him pitch more effectively, then I'm all for it. And one more thing:
Frank Coppola
is an idiot. This kind of insight will land you on "Cold Pizza" in a chair right next to Skip Bayless.