From 2001-2003, Jerome Bettis was summarily ridiculed as fat, slow, and a waste of cap space. This weekend he
re-signed with the Steelers
for one more season. And considering that he had maybe his best season since 2001, having to pay him $1.5 million seems like a no-brainer. Now if the Steelers can just find some way to get Plaxico Burress under contract.
Which get's me to thinking about what Pittsburgh might have in mind if (when) Plax goes elsewhere. I lamented for most of last season that Plax should be a top priority for the Steelers because the vertically-challenged duo of Hines Ward and Randle El means that opposing defenses can focus on stopping the run with fewer concerns about leaving cornerbacks in man coverage. Plax missed four games in 2004 with a hamstring injury, and while Pittsburgh struggled at times in his absence, they also had one of their highest offensive performances against the
Giants
. In that game Hines had 134 yards receiving and Randle El had 149, so it's not impossible to excel without an identifiable deep threat. And if you want further proof, look at the Patriots (God, I get tired of saying that).
Honestly, if you stacked David Patten, Deion Branch and Troy Brown end to end, they'd come up to Plax's armpit. And if you don't think you can have a vertical passing game with undersized receivers, just ask Deshea Townsend (he was burned twice on long balls down the field during the AFC Championship game -- and they were both to Branch). Of course Branch is faster than any receiver the Steelers have, so that certainly helps in creating separation (actually, Lee Mays may be just as fast, but one prerequesite to being a wideout is being able to catch the ball on a regular basis. And don't get me wrong, I'm a big Lee Mays fan; in fact, he might want to take the Raymond Felton approach to the offseason. Namely, plan on catching 1,000 balls a day, every day until training camp starts).
Plus, there is the NFL draft in late April. It looks like Pittsburgh won't make any free agent moves outside the team, so they'll look to re-stock strictly through draft picks. And give that I just watched four straight hours of NFL Combine coverage on the NFL Network (it's slightly less entertaining than watching the second day of the NFL draft), I now consider myself a draft guru. Seriously, Combine coverage or not, Pittsburgh should have no trouble finding a wideout with adequate size and speed who can contribute next season. And don't forget, if Lee Mays follows my advice, he could make us all forget about Plax.
Still, Pittsburgh might want to think about re-signing Plax anyway ... you know, just as insurance.
***
OK, I consider myself as big a Steelers fan as the next guy ... unless of course, you're standing next to
this
guy.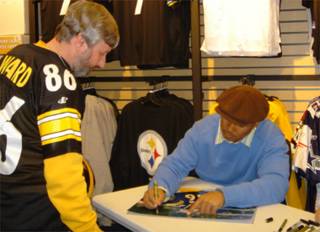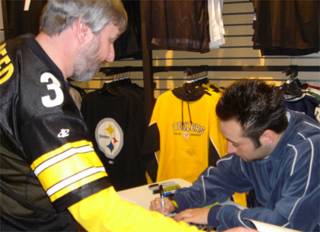 Last week, both
Hines Ward
and
Jeff Reed
made public appearances (but on different days) to sign autographs, take pictures, and get a chance to talk with fans. But thanks to my keen eye for detail, I noticed this dude, who not only showed up for both appearances -- not really a big deal -- but also sported his #86 jersey for Hines' appearance,
and
a #3 jersey for Reed's appearance -- a real big deal.
Yeah, I know what you're thinking. Where can I get my Jeff Reed authentic gamer? Frankly, I figured the only Reed jerseys were either hanging in his locker or homemade by diehard fans (read: family members). Of course, you can also make
your own jersey
, but I can't envision a situation where I'd put down $250 for Reed #3.
Now if the middle-aged white guy with the beard shows up at the Brian St. Pierre and Sean Morey "mall day" sporting the requisite #2 and #81 jerseys, then people might want to check and see if there have been any recent escapes from the local insane asylum, because anyone who has over $1,000 worth of jerseys in his closet -- three of which belong to guys who are seldom recognized outside of family reunions -- might be a security risk. Or at the very least, just a really bad stalker.