Last week I questioned whether the Steelers should sit their starters during the Giants game to get them ready for the post-season. Well, I'm an idiot because if Cowher had followed my advice yesterday the Steelers very well may have lost to the Giants. Luckily, guys like
Rowdy
had it right when he said, "Should the coach maximize his chances of winning the Super Bowl by reducing his chances of getting there?"
Pittsburgh struggled to a
33-30
victory against a New York team that, for all intents and purposes, should be relegated to the Arena League given their performance over the last month. And when I say the Steelers struggled, that's an understatement -- kind of. If you look at the
game stats
, (other than the scoreboard), the Steelers dominated the time of possession (35:43 to 24:17), total yards (469 to 278), total plays (71 to 44), rushing yards (160 to 96) and passing yards (309 to 182). The only area of the game where they were beat statistically was on special teams -- and basically all of it from some guy named Willie Ponder. Consider this. Jeff Reed kicked off eight times with the following results: New York TD, New York starts at the 45, New York starts at the 30, New York starts at the 29, New York starts at the 45, New York starts at the 28, New York starts at the 48, and New York starts at the 36 -- which works out to an average starting field position of the 37 yard line.
And being the optimist that I am, I attribute a lot of the Giants' special team success to the fact that the Steelers had a lot of their usual special team guys not on special teams. Because of injuries to guys like Clark Haggans, James Harrison was made a starter and replaced on special teams by Alonzo Jackson. Also, Clint Kreiwaldt was injured last week
during practice
while filling in for an injured James Farrior. I also blame
Deion Sanders
for getting the Giants sufficiently riled up after some dopey comments he made about New York being a bunch of quitters after the Ravens beat the crap out of them last week (OK, I don't really think Deion's responsible for reinvigorating the Giants, but any time I get a chance to blame Prime Time for something, I have to).
After special teams, one might also give pause when considering how the defense played. For the second straight week they registered no sacks and gave up a couple of big plays to Eli Manning and Tiki Barber (by the way, Barber seems like a nice enough guy, but I really can't take him seriously now that he carries the football like my grandmother carries her purse; maybe New York can petition the league to let Barber
actually
carry a purse during the game and he can put the football in it when he gets the ball). Again, I think it's important to remember that this defense is without Kendrell Bell, Casey Hampton, Clark Haggans and Chad Scott (although it can be argued that the defense has actually gotten better with Willie Williams in there) -- and they're still the top-rated unit in the NFL. Also, teams are starting to figure out how to combat the zone blitz. Yesterday the Giants had a lot of max-protect schemes and only sent out a couple of recievers. With more time to throw (and given the fact that Eli pared the playbook down to two or three plays), Manning did a good job of throwing accurately all day long. Still, the Steelers had a couple of really big stands during the game.
The goal line stand comes immediately to mind. I love how, after Shockey caught a pass in the flat about two yards from the end zone, Willie Williams held him up long enough for Farrior, Polamalu and Foote to come up and pop him in the mouth. The best part was when Shockey's helmet came off, he got up looking like Captain Caveman, and spiked the ball in the end zone -- even though he was two yards short. Classic.
The other big play was the interception by Williams in the 4th quarter. How, with a straight face,
Amani Toomer
can claim that it should have been pass interference is beyond me. First, Williams was looking at the ball when their feet got tangled. Second, Williams weighs 125 lbs, and he managed to keep his feet while Toomer went down like
Gerry Cooney
circa 1982 -- and he still had the presence of mind to make a miraculous catch. Yesterday the Steelers defense was a lot like Plexiglas -- they bent but didn't break.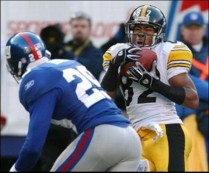 Speaking of
Plexiglas
Plaxico, apparently he's a prophet too. Yesterday in the
Pittsburgh Tribune Review
Plax made the following
observation
:
"We gotta find a way to get [Randle El] the football," Burress said. "He's one of those guys, when he touches the football, he's dangerous. He's the X-factor to our team. ...He can do a lot of things that a lot of people can't do in this league. He's a little guy, but he plays big, and he plays with a big heart. I would love to see him touch the ball five, six times a game."
Well, truer words have never been spoken. Antwaan had 5 catches for 149 yards, caught a TD and threw another one, and maybe the biggest play came on his reception at the Giant 5-yard line while being double covered. How he managed to out-jump not one, but two defensive backs is still a mystery to me, but I'll take it. Also have his first monster game in what seems like years, Hines Ward had 9 catches, each one more acrobatic than the one before it. And in what has become a weekly ritual, the Bus just punished the opposing defense. There's nothing funnier than watching Jerome shed linebackers and then steamroll defensive backs.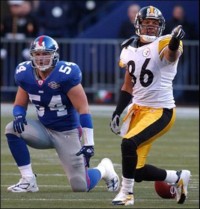 Which leads me to this: The Steelers offense certainly had no trouble moving the ball, which is obvious when you look at their time of possession (35:43) and total plays (71). What may be of some concern however, is Roethlisberger's decision-making on a couple of plays. Overall, I thought he did a great job of putting the Steelers in position to win. Still, he made several bone-headed for really the first time all season. His first pick was a head-scratcher, but paled in comparison to his second pick. The only thing more unbelievable than his second interception was the fact that Brent Alexander actually caught it. I remember yelling at the television, "where the hell was that last year against Denver!?!" Also, it looks like defensive coordinators are getting a much better idea of how to attack Roethlisberger -- namely by keeping him in the pocket. By keeping him in the pocket, Roethlisberger can create plays on the run -- and while he usually won't try to force passes into coverage, he will take a sack. After re-watching the game last night, the pass-blocking wasn't as bad as it first seemed. A lot of times the Giants would bring one more than the Steelers could block and either Roethlisberger didn't recognize it, or the receivers were covered, but either way he wound up on his back.
Of course, despite a couple of setbacks, Ben made plays when he had to -- including two unbelievable throws to Randle El -- one while scrambling to his right, and the other on the TD pass. I guess it helps to have a defensive backfield that has Alexander as the safety and some guy named Burns playing corner (there are rumors that the Giants will sign Smoked and Toast off the practice squad this week).
OK, the Steelers are 13-1, and have the Ravens at home next week. I can only hope that the Colts score 100 points tonight and Dick LeBeau can come up with some new stuff to combat all the max-protect schemes the Steelers have been facing the last few weeks. It might also help to get back guys like Plax and Duce.
Oh yeah, I should also mention (hopefully without jinxing him) that Jeff Reed is having a solid -- if not spectacular season. He's been splitting the uprights with plenty of leg and if I had one complaint it would be a few deeper kickoffs. But all things considered, he's done a great job, and is single-handedly responsible for at least two wins this season. Let's go Colts.
OK, just one more thing. I mentioned to my buddy Andy earlier this week that Verron Haynes is a really good third down back that brings a lot of versatility to the offense. The only problem is that he's perpetually hurt. Anyway, I said this offseason could be interesting because the Steelers may choose to keep Willie Parker and let Verron go -- especially if Parker can catch the ball coming out of the backfield. Here was Andy's response:
"That's a big if. If Kevin Millar could catch he'd be a good outfielder.
Good point. Except that Millar would still be a crappy outfielder if he could catch, because he still can't run or throw, but I take his point. Anyway, Verron once again proved that I have no idea what I'm talking about as he had a couple of really big catches (1 TD, 1 3rd down conversion and several big runs). OK now, let's go Colts.