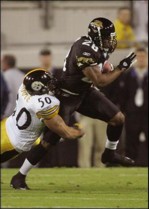 Other than the
week 2 loss
to the Ravens, this was easily the most physical game of the season for the Steelers -- except this time Pittsburgh won
17-16
. It seems like as the season progresses, good things always happen to good teams (and crappy things always happen to teams that are struggling -- see 2003 Steelers), and thankfully for Pittsburgh that was the case last night.
I usually don't like to complain about the officiating -- because often it's so consistently bad it evens out -- but the phantom illegal contact call on Chris Hope last night that prolonged a stalled Jacksonville drive (and eventually led to the go-ahead field goal) was so ridiculously awful, it's worth mentioning here. But not for the reasons you might think; instead to point out that despite the setback, the Pittsburgh defense was able to hold Jacksonville to just three points and give their offense a chance to win it (if this were 2003, the Jaguars would have scored a TD on the next play, and recovered the fumbled kickoff on the play after).
And speaking of winning it, I don't know if I want Jeff Reed taking a 37-yard field goal with 00:23 left on the clock -- and that's for a couple of reasons. First, I'm not entirely comfortable with Jeff Reed from anywhere outside of 20-yards. Second, 23 seconds is a lot of time for Byron Leftwich, who for most of the night made Troy Edwards look like the next coming of Mark Duper. And maybe the most important reason I don't trust Reed is because he color-coordinates his wristbands with his game jersey (black at home, white on the road).
But maybe the bigger point is that the Steelers had a 2nd and 1 with a little under a minute to go in the game when they decided to sit on the ball trust the leg of Jeff Reed. I'm guessing they could have gotten Reed a little closer and still been able to stop the clock with only a few seconds left in the game. But hey, J.R. split the uprights, and Josh Scobee just missed a 60-yarder as time expired that most people would have thought impossible under any other circumstances.
Lost in all of this is that Cowher's questionable play-calling was easily surpassed by that of Jack del Rio. He wasted a timeout trying to ice the "un-iceable" Jeff Reed on his last attempt, and that decision indirectly led to the Jags having to use their last timeout from the Steelers 43-yard line to try a 60-yard field goal with 4 seconds left in the game.
Despite all the crappy officiating and head-scratching coaching decisions, as my buddy Andy said last night, the ball never lies.
***
About midway through the game I was imploring Cowher to cut Lee Mays on the spot because I think he's had more drops in big situations than he's had catches (this may come as a surprise to no one, but I'm a big Lee Mays supporter). Well, on the last drive Lee Mays made me look like Butch Davis when it comes to evaluating talent because he had two big catches that helped set up the aforementioned Jeff Reed field goal. Maybe this will keep Ed Bouchette (and me) off his back for a week or so. What's interesting is that Roethlisberger had the confidence to go to Mays in this situation. Of course he seems to be looking for Mays a lot now that Plaxico is out of the lineup, so maybe it has more to do with Ben being more comfortable throwing to a big target (and what was up with Plax yelling like a madman on the sidelines all night; I'm pretty sure he wasn't being very complimentary when they showed him yelling at some Jaguar player; I can very easily see Plax as a head coach after his career is over -- just kidding). Whatever the case, it was good to see Mays have a little success.
And speaking of putting things to rest, I don't know what Bob Smizik will talk about all week now that Roethlisberger turned in a 14 for 17, 221 yard, 2TD, 40 rushing yard performance against a pretty physical defense (one that included DeWayne Washington, but pretty physical none the less). And while his TD passes in the first half to Ward and Riemersma tough throws, his final drive was easily the most impressive because he had to make perfect throws during crunch-time. And when I say "perfect," I'm not exaggerating because if Lee Mays is your primary target, you pretty much have to put the ball on the money.
Of course the running game did struggle to get on track, but that wasn't a surprise since the Jags have two of the best defensive tackles in football with Marcus Stroud and John Henderson. Still Jerome was able to bust three runs, Duce wasn't as effective, but he did avoid runs for negative yards, and Willie Parker had a huge 12-yard run on the final drive (and perhaps more importantly, he also
caught
a pass and maybe most important of all, he avoided a Sean Taylor-esque hit that should keep him off "Jacked Up" for at least another week). Of course the fact that the Steelers didn't gain 200 yards on the ground will probably still give Smizik cause for (false) concern and I look forward to what crazy theories he can concoct to explain the latest Pittsburgh shortcoming.
Hmmm. The pass defense did have it's moments last night, so maybe Smizik will focus on that. But despite the fact that Leftwich put up 268 yards (and sadly 90 of them when to Troy Edwards, which is nothing short of inexplicable), the defense was still able to hold the Jags to 1 TD. So many of Leftwich's throws were right on the money, that it was hard to blame the coverage -- because the coverage was there. Several times Pittsburgh defenders just missed making a play, and when they did (Hope had an interception), the officials called it back. Still, the 56-yard pass out of their own endzone to some guy named Yoder was reminiscent of the coverage you might see out of a Tim Lewis defense circa 2002. But other than that, I thought the defense did a good job of stalling drives that could have easily led to scores. Something else to consider is that when the Steelers blitzed, the Jags did a good job of picking it up -- in fact, I think Leftwich was only sacked once. And maybe it's also worth noting that as a defense you have to respect what Fred Taylor can do as a running back, which helps open things up downfield. This is the first time all season that the Steelers missed a lot of first tackles. Taylor is 6'1" 234 lbs. and is fast. He's kind of like Jamal Lewis, but without the drug charges.
There are a lot of good things (and some bad ones) to take away from this win. First, the Steelers were able to win a really tough game on the road; they also were overcame some plays that didn't go there way (the phantom illegal contact call on Hope), or were the result of stupidity (Joey Porter's personal foul after a third down stop). And maybe most important, guys who you don't hear much about had a lot to do with this win -- namely Lee Mays and Jeff Reed. Good stuff.