If this were 2003, the Cowboys would have won in a landslide. This year however, things are a little different. Someone needs to check Ben Roethlisberger's birth certificate, because I'd be hard-pressed to believe that he's 22 years old. This guy has more poise, awareness, and ability than Kordell and Tommy combined -- times two. Duce Staley did a great job of moving the ball (despite a first half injury) and Hines Ward had his usual solid performance.
The Cowboys showed that they still can't run the ball (except on third and long), Terry Glenn is a legitimate weapon, the Dallas defense is fast, but undersized (not to mention that both safety Roy Williams and cornerback Terrence Newman are head hunters), and Vinny Testaverde is still haunted by previous Steelers games.
Also, it's important to note that the bye week couldn't have happened at a better time. Roethlisberger and Staley were both banged up in the first half, Chad Scott is probably done for the season (he tried to jump for a ball and didn't make it off the ground -- I haven't seen the injury report, but it looked pretty bad), and Colclough was banged up (although he did come back). OK, here's the good, the bad, and the ugly: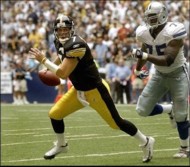 The Good:
Ben Roethlisberger
. For the second straight week Roethlisberger is the first guy I mention, big surprise, huh? If this guy isn't the rookie of the week for the fourth consecutive time, someone in the Dallas front office is stuffing the ballot box (see more below). Lets see, is 21/25 193 YDs, 2 TDs a
good line
? Especially when you consider that (a) he was hurt in the first half, and (b) Parcells has a very quick, aggressive defense? Let me put it this way, at no time during the game did I think that Roethlisberger might throw a pick (OK, I was a little nervous on Plax's only catch in the second half -- but that's it). And this is a total 180 from when Tommy would drop back to pass. It's hard to believe how strong Roethlisberger is -- how many times did he single-handedly avoid the rush because of his strength and awareness?
I was honestly a little worried about this game, and not because the Steelers were playing the Cowboys -- I was worried because of all the attention the national media was giving Roethlisberger this week. Well apparently it didn't matter. This guy is unbelievable -- and what's more amazing is how humble he is when talking about what he's done so far.
Duce Staley
. I've said it before, and I'll say it again: this guy is a beast. It's obvious that Jerome is heading into the sunset of his career (but he still had a big TD run -- off-tackle no less), but Staley seems to just be hitting his stride. He should have rushed for over 100 yards, but was robbed on a 20+ yd. carry in the second half when Hines Ward was called for a phantom hold call at the line of scrimmage (this may have been the worse call of the game). The fact that this guy can gain 4-5 yards per carry, makes Ben's job a lot easier.
Plaxico Burress
.He had two great catches in the first half and a big reception in the second half. But if Plax hadn't done anything other than catch the first quarter TD, I would still count his efforts among
the Good
if for no other reason than he did an awesome Michael Irvin TD impression. Good stuff.
Hines Ward
. Hmmm. Let's see. nine catches, 76 yards and a lot of big plays. For the first time in a long time, Hines dropped a big third down pass in the first half, but hey, even the best make mistakes. This guy is a big-game players, and he showed it today. Last week there was a wide receiver special on the NFL Network, and even though Hines got about 30 seconds of face time in a 60-minute show, both Chad Johnson and Terrell Owens named him as one of the best receivers in the league. I think that says a lot.
Dick LeBeau
. I spent most of the game yelling at the television and wondering why in the hell Dick LeBeau decided
not
to blitz Vinny all day long (especially after doing it successfully for five consecutive weeks). But after the last two defensive series, it was all clear to me (and I promptly shut up). The only thing I could yell about was why Kimo Von Oelhoffen didn't return that fumble for a TD (I'm positive Hampton would have taken it to the house), and who the hell was working the clock in the final
second
. I mean really, how quick was the official timekeeper at stopping the clock?
Also, someone needs to tell James Farrior he can't catch -- on the final play, after Colclough got hit in the head with Testaverde's pass, Farrior's attempt at catching the deflection was so futile, that it was closer to being a TD than an INT. Still, despite all of that, the defense bent, but didn't break. There were a lot of big stops and it's almost impossible to compare this defense to last year's. I mentioned this above, but I think Scott is done for the year (based on nothing other than my medical expertise -- which I solely attribute to watching a lot of "
Scrubs
" and "
St. Elsewhere
"), and this should give Colclough some much needed experience, as well as giving Ike Taylor some much needed confidence.
Note to Chris Hope: buckle up your helmet. After the first time his helmet came off (and Willie Williams inadvertently hit him in the head), I thought it might tighten it up, but on the very next run play, it came off again. Still, he and Polamalu both played a solid game. People talk about Roy Williams being one of the best safeties in the league, but the difference between him and Polamalu is this: (a) Polamalu is pretty good in coverage, and (b) Polamalu isn't a dirty player (read: headhunter).
One more thing, can someone explain to me why defensive backs can't catch? Russell Stuvaints' big drop on third down could have very easily cost the Steelers the game (it should have been six points). There's is absolutely no excuse for missing that pass (I just needed to get that off my chest).
The Bad
Russell Stuvaints
. I just mentioned above that Stuvaints dropped an
easy
INT for a TD that led to 3 points for Dallas, but he also was called for illegal hands on Antonio Bryant that would have resulted in a Willie Williams INT. I understand that he was in on a lot more plays than he's accustomed, but when you have the chance to make plays, you've got to make them. Let me state it differently: you don't see the Patriots making these kind of mistakes -- and you could argue that the Steelers have a lot better athletes on defense.
Ike Taylor
. Let me say firstly that I like Ike Taylor and I love to pull for the underdog. That said, he looked scared once he got in the game and he got burned early against Glenn on an out pattern (I think it was Glenn). He also fumbled on a kickoff return (although he got smoked), but Randle El, may have made the play of the game when he recovered it. He should get a lot more opportunities if Scott is out for an extended period, and hopefully Taylor will return to his 2003 form.
The Ugly
The Officiating
. There were two awful calls that come to mind immediately, but I'm sure there are myriad others I could come up with if I gave it some thought. And let me say right off, that I think the referee, Mike Carey, is one of the best in the game, but he was surrounded by a bunch of numnuts that continuously threw some questionable flags.
The first one was the phantom holding call on Hines Wards (vs. Roy Williams) that reversed a 20+ yd. gain for Duce Staley. Apparently, it's not OK to legally donkey punch Williams on a block, but there's no problem when this guy tries to take peoples heads off 2-yards out of bounds. That was a big penalty and it stifled a Steelers drive late in the game.
The second questionable call wasn't by any official on the field, but was instead the fault of the "official timekeeper." I have it in quotes because that position is a joke. The only thing official about that job, is that he officially tried to screw the Steelers. The game should have been over on the next to last play, but because the timekeeper stopped the clock before Terry Glenn even hit the ground, the Cowboys got one last chance to win it. I know the Steelers won, but it's still unacceptable.
Bill Parcells
. Is it just me or did Parcells gain 400 lbs. since the last time I saw him? He not only is in dire need of the "
bro
(or mansiere, depending on your preference)," he also might want to do something about the spare time both above and below the belt. I was hoping that if the game was tied after regulation, the tie-breaker would be a 100-yd. foot race between Parcells and Cowher. Now that's entertainment.
For the second week in a row, the Steelers played solid, smart football. Jeff Reed hit a big field goal (and even had a touchback), the special teams was outstanding (at least on coverage), the defense gave up some big plays, but made plays when it counted, and Roethlisberger and Co. continue to make fans all but forget the 2003 season. In addition to Staley and Roethlisberger being hobbled, Ricardo Colclough, Chad Scott and Casey Hampton also came up lame at some point during the game. Luckily, the bye week is coming up, and it will give Pittsburgh a chance to heal, and to also prepare for the New England Patriots.
Man, what a difference a year makes.
Update
--
This ain't good
(from AP):
"The Steelers got the win, but nose tackle Casey Hampton and cornerback Chad Scott both suffered right knee injuries and Cowher said "It's not good news. Both could be gone for the year." Cowher said the team would wait for further tests Monday."
Ugh. I think I need the bye week more than the Steelers.