I have a bunch of Tarheel (and Tarheel-related) stuff that I've been meaning to post (but obviously haven't yet), so knock yourself out:


Here's a story from the Cornell paper discussing the 'Duke Curse' -- namely that great college careers at Duke almost never translate to successful pro careers, unless...

So what's the best way to avoid the curse, you ask? Become Carlos Boozer. Get drafted in the second round, make people think that you are a good player because LeBron gets you easy buckets, bolt to Utah because they are the first team to offer you big money, and then market yourself even further by playing decently on a sub-par Olympic team.
Speaking of Carlos Loser Boozer, is it bad when your alma mater's paper prints a story basically calling you an unethical dirtbag? Well, the Chronicle didn't hold back when describing how Boozer screwed his former team (the Cavs) to make a few bucks more with his new team (the Jazz).

But Boozer seems to be different from Duke NBA players off the court, as well...Uncorrupted by fame and millions of dollars, Mike Krzyzewski's former players have been known for their community service and commitment to charity rather than their propensity for criminal charges and greed.

...Carlos Boozer's behavior this summer, however, can be described as nothing less than reprehensible in his business dealings with the Cleveland Cavaliers. The drama began when Boozer decided he deserved more money. Because he was only a second-round draft pick, the Cleveland Cavaliers could only pay Boozer several hundred thousand dollars a year under the NBA's rookie salary cap rules...After Boozer consulted with his agent, he decided to ask the Cavaliers to release him from his current contract and negotiate a long-term deal.

Boozer continually told Gund and Paxson: "If you show respect for me, I will show respect for you." Gund and Paxson decided to trust Boozer, and decided not to pick up his option so they could negotiate a long-term deal for their up-and-coming power forward.

But instead of showing the same respect for the Cavaliers, Boozer signed a six-year, $68 million deal with the Utah Jazz a deal the Cavaliers could not offer under the restriction of the NBA's Collective Bargaining Agreement unless they made impossible changes to their team. Cleveland had no choice but to loose Boozer without compensation.

So ridiculous was Boozer's behavior that his agent, Rob Pelinka, refused to represent Boozer in the future. Pelinka claimed to be on the Cavaliers' side and was confused as to why Boozer did not honor his verbal agreement. In addition, after hearing the full story, Utah Jazz owner Larry Miller reportedly considered finding a way to send Boozer back to the Cavaliers.

Ouch. I don't think there's really anyway to paint Boozer in a positive light. The good news -- he didn't go to UNC.
Duhon just won't go away. His play has been described as 'excellent thus far and I'm sure playing with Luol Deng only helps.

Both players excelled during the NBA Summer League's Rocky Mountain Revue. Duhon averaged seven points and three assists and Deng tallied 15 points and five rebounds.
As I re-read this, I notice not too much mention of the Tarheels. Well, here you go.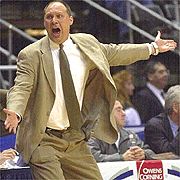 Remember Jeff Lebo? Well, he's the new coach at Auburn University and right after he was hired in April the NCAA slapped two years of probation and two lost scholarships because of violations from the previous staff. Since then, several players left and by July he had only one player taller than 6'6". The good news is that this is nothing compared to what Lebo has been through in his previous coaching gig:



Tennessee Tech? That was a bad job. Lebo was 32, a rising star, when he left Eddie Fogler's side at South Carolina for Tennessee Tech in 1998. Friends from the Dean Smith coaching tree begged Lebo not to do it.

"They told me it was career suicide," Lebo said.

Tennessee Tech basketball was definitely dead on Lebo's arrival. The Golden Eagles had been 9-21 the previous season and had no tradition to build upon.

They have tradition now. Lebo's four teams there won 12, 16, 20 and 27 games.

Then Chattanooga called.

Friends begged Lebo not to do it. Chattanooga wasn't just a bad job. In 2002-03, Chattanooga was a terrible job. The Mocs had gone 16-14 the previous season, and the top six players were gone.

Lebo's first team won 21 games. His second team won 19. Then Auburn called.

On the upside, if Auburn struggles, Lebo should know exactly what to do.
Here are two cool articles about Jawad Williams and Ray Felton. Jawad talks about being a senior and the influence Roy Williams has already had on him and his teammates.



Ray talks about all the great point guards that made their way through Chapel Hill (it's always good to see these guys with a sense of history) and what he's expecting going into 2004-05.
Can you believe that college basketball starts in a month?