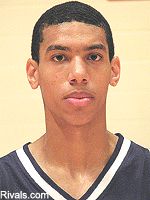 More good news for the UNC Tarheels. According to
News-Record.com
,
Danny Green
, a 6'5" swingman committed to UNC this weekend giving the Heels three of the top 12 senior shooting guards. Green joins
Bobby Frasor
and
Marcus Ginyard
who'll all be in Chapel Hill for the 2005-2006 season. Not surprisingly, Green cited Roy Williams as one of the main reasons for choosing the Tarheels over Pitt and St. John's.
"I chose North Carolina because I felt more comfortable with Coach (Roy) Williams and (assistant) coach (Steve) Robinson," Green said. "I've watched them since I was a little kid."
According to the article, Green has averaged 18 points, 10 rebounds and six assists while playing point guard the past two seasons at St. Mary's High School in Manhasset, N.Y. He is expected to move to the wing this season. Green's stock rose considerably during the summer, when he led the ABCD Camp's rating system and was named co-MVP. It's also when he first caught the eye of UNC coaches.
Here's what Dave Telep, recruiting analyst for
theinsiders.com
, says about Green:
"He's confident, he's a decent shooter and he's a great guy to play with," said Dave Telep, recruiting analyst for theinsiders.com. "Teammates really like playing with him, and he should fit right into what's going on in Chapel Hill."
Williams is still heavily recruiting front court players as they pursue
Richard Hendrix
, a 6-8 forward who is considered one of the country's best senior power forwards, and
Andrew Bynum
, who is considered the top center prospect in the country.
Given the commitment of
Tyler Hansbrough
, this is all good news as the Heels look to battle the "
other
"
Evil Empire
11 miles to the east.