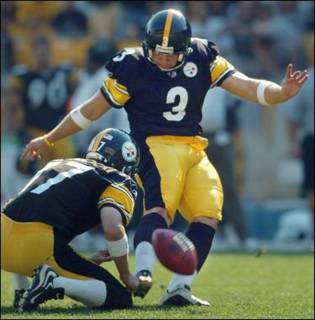 Jerome Bettis' broke another record, but it wasn't moving into fifth place on the all-time rushing list (and if yesterday was any indication, it looks like he'll need about 2,000 carries this season to do it). Instead, Jerome rushed 5 times for 1 yard (yeah, you read that right -- 1 yard) and scored three touchdowns (you read that right too, three TDs) as the Steelers won their season opener for the second consecutive year. And while the Raiders were much improved from the stiffs that showed up late last season (they lost 27-7), they still look nothing like the team that made it to the Super Bowl in 2002.

Here's a look at the good, the bad and the ugly from week 1.

The Good:

Chad Scott! This was easily the best game Chad Scott has played in at least three seasons. He provided great coverage on every ball thrown his way and made several big break-ups including one in the endzone. One thing I disliked about sportswriters was that they were always quick to bad-mouth a player but never gave him credit for his successes. Well Chad Scott, congratulations. I was off the mark with my myriad articles on your diminishing skills and questionable decision-making. Nice job on Sunday; all I ask is that you play like this every week so I don't have to write anymore "X marks the Scott" stories (seriously though, Scott had a very solid game).
Duce Staley. Twenty-four carries for 91 yards and more importantly, he helped the Steelers control the clock early in the game.
Jerome Bettis. It's funny how there are some Steelers fans that have such a vitriolic reaction to Bettis still being on the team. Either way, he proved valuable as he did his best Zack Crockett impersonation and scored three TDs from what can kindly be described as "short yardage."
Hines Ward. Same stuff different year. Hines' receptions were primarily of the short-yardage variety, but they helped sustain Steeler drives.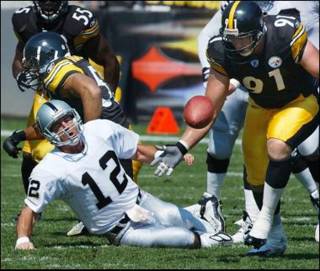 Aaron Smith. Ed Bouchette can quit worrying (at least for this week) about the Steelers' pass rush because the front seven did a great job of putting pressure on the human fossil, Rich Gannon. After a Gannon fumble, Smith showed surprising quickness as he snatched it up and rumbled 49 yards.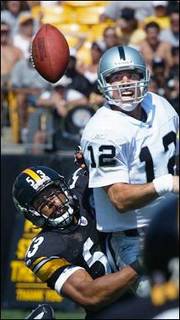 Clark Haggans. Jason Gildon who? Man, did Haggans do a great job of pass-rushing and run-stuffing? He was the surprise of the defense -- especially when you consider he was unable to play for most of training camp with a broken hand.
Larry Foote. Kendrell Bell who? For a guy who's only 6'0" and just a shade under 240 lbs, Foote also had a great game. He was solid on run-support and also was surprisingly quick in getting to the ball in the backfield. Bell better get well quick or he might find himself on the bench permanently (not really, but it's always good to throw in the occasional ridiculous statement).
Jeff Reed. Save the best for last. I mumbled to my friend Andy when the Raiders tied the score in the 4th quarter that I didn't want the game to come down to a Jeff Reed field goal primarily because I have very little faith in him. Well, Reed nailed a 41 yarder with 11 seconds left. It's certainly a big win for the Steelers, but that kick might prove more important to Reed's confidence as the season progresses and the weather worsens.
The Bad:
Troy Polamalu. You didn't see much of Troy except on two Gannon pump-fakes that resulted in big plays. That said, I'd rather see Polamalu out there making mistakes and learning from them than an aged veteran continually getting beat because of a lack of physical skills. Troy's mistakes don't bother me because this guy's aggressive and he'll get better.
Tommy Maddox. Tommy started off sharp and progressively got worse. He avoided the "big turnovers" that have plagued him the last two seasons, but he still showed shaky decision-making in the second half (that fumble on the whiffed throw was a bit much -- even for Tommy). Still, I thought Tommy's performance was adequate and to be fair, he completed some big throws on the final drive. And while this is more of complaint about Whisenhunt's play-calling, I'll mention it here. The Steelers need to look downfield more often instead of relying on the short-yardage passes in long-yardage situations. Plaxico had only two ball thrown his way. On one he made a good catch; on the other he made a great catch only to be the recipient of a helmet-to-helmet hit that wasn't called.
The Ugly:
Actually, there really wasn't anything so horrible in the first game that could be characterized as "ugly" -- even the officials weren't totally objectionable...Although, I always wondered how is it that eight officials routinely screw up calls on the field that seem obvious to everyone with a pair of eyes, but they always get the "12 men on the field call" correct. Doesn't it seem like counting a bunch of players prior to the snap with units coming and going would be one of the most difficult jobs of an official? But amazingly, they always seem to get that call right -- and luckily they got it correct yesterday because it benefited the Steelers on one of their first half scoring drives.
One other thing that bothered me about the yesterday was that Ike Taylor didn't even dress. I didn't hear anything about him being injured, so I'm guessing Cowher put him on the inactive list. What's funny is that the Steelers can never have enough defensive backs (or special teamers) and to put Taylor on the inactive list after a solid rookie season is curious at best. The Pittsburgh media has been sketchy with information about why he was demoted, but it always makes you wonder if it's something bigger than his play on the field (if anyone's heard anything, please let me know).
Well, week 1 is in the books and the Steelers are tied for first place in the AFC North with the, er, Browns. The only thing better than a Steelers victory is a Steelers victory coupled with a Ravens loss -- even if it means that the Browns have to win. One down, fifteen to go.
(note: in the spirit of full disclosure, I stole all these photos from
nfl.com
)