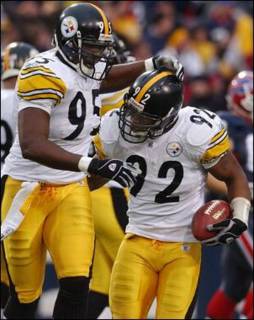 OK, it wasn't really a "
whuppin
'" on the
scoreboard
, but given the importance of this game for a Bills team that held it's playoff hopes in it's own hands, the score could've been 50-0 and it probably would've felt the same. I mean seriously, anytime an undrafted rookie (Willie Parker) busts you up for 100+ yards -- in one half -- and the guy under center is a fifth round pick who just got signed off the practice squad (Brian St. Pierre),
and
you still lose, it has to be demoralizing.
Luckiy for the Steelers, Mike Mularkey stuck with Drew Bledsoe. I haven't really seen him play much this season, but on Sunday he was as awful as Kyle Boller on his worst day (this should give Billick and Boller hope that a mediocre QB can make a living in this league as a starter). Let's see, Bledsoe threw an interception to Larry Foote that prompted my buddy Andy to ask, "Was Bledsoe trying to take Larry's knees out with that pass?", and he later fumbled the ball to James Harrison that resulted in a defensive TD for the Steelers. Bledsoe would have had another interception, but Chad Scott returned to form after a 10 week absence and dropped the pass.
Speaking of Scott, he actually played pretty well for a guy that took two and a half months off in the middle of the season to recover from a knee injury. He did a very good job of covering Eric Moulds, who dropped so many passes that he makes Lee Mays look like Jerry Rice. OK, I don't think a guy with no arms could make Mays look like Jerry Rice, but you get my point. The funny thing is, Mays was the go-to guy for most of the game (having Sean Morey as your other option might have something to do with that), and for some inexplicable reason, he can't seem to catch passes that are above his waist. On that fade route on the goal line (that looked more like a coffin-corner punt than a pass) the ball went right through his hands; and I don't mean he just missed making a great catch, or he misplayed the ball and it glanced off his hands, I mean it literally went right through his hands untouched, over his head and out of bounds.
It's too bad Tommy Maddox didn't throw a bunch of TDs so I could hear Mark Madden lobby for his return to the starting lineup. During one sequence, I watched Tommy take a sack and have a ball batted at the line of scrimmage -- and the painful memories of 2003 came rushing back. Still, despite two picks (one of which was due to Jerame Tuman doing his best Lee Mays impression), Tommy played pretty well, especially when you consider than after the first quarter, he had to throw to guys like Morey and Mays. Plus, he's a solid backup that has actually taken this team to the playoffs.
Luckily, the next coming of
Jan Stenerud
was on target again. Jeff Reed (Stenerud had better hair) was 5 for 5 and every kick he hit was right down the middle ... in a windy Ralph Wilson stadium ... in Buffalo in January. And not only that, but most of Reed's kickoffs were caught in or near the endzone.
And then there was Willie
"Hot Boy"
Parker. In one half, Parker rushed 19 times for 102 yards and broke a 58-yarder late in the game -- against a defense that's only given up two other 100-yard rushers all season. Parker's a change-of-pace back similar to Amos Zereoue -- except Cowher isn't asking Parker to be a starter. Which apparently makes all the difference in the world -- well, that and he runs a 4.2-forty.
Changing gears a bit, I honestly think that this is Alonzo Jackson's last regular season game with the Steelers -- and I've tried to give him the benefit of the doubt for almost two years now. James Harrison is far-and-away a better linebacker than Jackson. In fact, Harrison ain't a noticeable drop-off from Clark Haggans. Jackson, on the other hand has struggled to get on the field since he was drafted in 2003, and once he does get on the field, he seems to struggle even more. For a guy who was a defensive end at Florida State, Jackson spent a lot of time against Buffalo getting pushed off the line of scrimmage and missing tackles. But hey, on a day when the third and fourth stringers basically dominated one of the hottest teams in football, Jackson's play didn't really matter.
Speaking of guys coming off the bench and performing,
Clark Judge
has a good article about the Steelers' 2004 season, and their Buffalo win in particular, and Hines Ward says it best (link via
Honest Wagner
):
"This game says a lot about our team," said Ward. "We really didn't have that much to play for, and they had everything to play for. We started with our starters, and our backups came in, and there was no dropoff. And that's been the case all year."

That depth is only another reason to embrace this club going into the playoffs. They're a league-best 15-1, the best record in franchise history; they have the home-field advantage through the playoffs; and they beat the No. 2 seed in the AFC, New England, and the NFC's top dog, Philadelphia, in successive weeks. Plus, they're rolling, not having lost since the second weekend of the year.

"This is probably the best team I've been on," said Ward. "We don't really care who gets the accolades or success. We just believe in one another."
It's definitely the best team I've watched -- and it's hard to believe that 12 months ago I was never happier to see an NFL season come to an end. Anyway, it looks like the
Chargers will be hosting the Jets
next week, and the winner of that game will be coming to Heinz Field in two weeks for a 4 o'clock game. In that time, hopefully everyone will be ready to go, but even if they're not, at least we know the backups can step in.