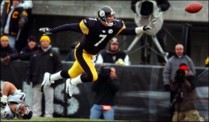 Let's see, home field advantage and a
20-7
spanking of the Ravens in one day? Not bad for three and a half hours work. Do you think Roethlisberger was happy to see Plax back on the field? It took all of 2 minutes and 28 seconds for Ben to throw him a 36-yard TD while Ed Reed and Gary Baxter looked like they were wearing moon boots in coverage. Of course the Ravens marched right back down the field and scored on a 6 minute drive, but that was the extent of their offense yesterday.
And for a team that is the self-proclaimed "best defense in the NFL," the Ravens got summarily abused by Jerome Bettis and Verron Haynes. The
Bus
piled up 117 yards on 27 carries (and also surpassed one of the all-time great sideline reporters, Eric Dickerson, on the career rushing list), Verron had 61 yards on 8 carries, and Ray Lewis spent a large part of his workday either on his back (thanks Dan Kreider) or making one of his 5 tackles 8 yards down the field. Ouch. Look, I know the Pro Bowl is basically a popularity contest -- I mean the fans account for a third of the vote -- but why Ray Lewis is on the team ahead of Donnie Edwards is nothing short of ludicrous. It's too bad he wasn't miked up for this game so we could hear him talking smack to the Bus after the Bus leveled him on one play in particular after a 6 yard gain.
The good news is that Kyle Boller was the leading rusher for a Ravens team that is also a self-proclaimed "team built on the run." Well, I'm not the smartest guy in the world, but when your quarterback leads your team in rushing yards and his name isn't Vick, you're probably not really a good rushing team. Add to that the fact that your All-
Ron LeFlore
First-Team running back, Jamal Lewis was an awful 14 rushes for 26 yards, and you're staring 8-7 right in the face. More good news however, if you're the Ravens -- minicamp is only six months away. One more thing. Why the hell was Brian Billick wearing sunglasses yesterday at Heinz Field? It was overcast for the whole game, and unless he just had lasik surgery, or was trying out for "
The Fonz
," the musical, he looked pretty ridiculous. Or maybe he's actually
Neo
, the chosen One, here to save the Ravens from mediocrity.
Well, for almost three quarters (and sans one ill-advised throw), Roethlisberger looked really sharp. He wasn't sacked all day and did a solid job of finding open receivers. His second TD pass to Jerame ("My name's not Jermaine") Tuman came with some strings attached -- in the form of Terrell Suggs body-slamming Ben to the ground and causing him to have to leave the game a few plays later. The good news is that the Steelers have home-field advantage throughout the playoffs and there's virtually no chance that Roethlisberger will play next week against the Bills in a game that has about as much importance for the Steelers as a preseason contest. In fact, he should have close to three weeks to heal, and next week should give Tommy Maddox an opportunity to knock off some rust.
I love the fact that Ben wasted little time getting Plax involved, but I would have been fine with the Steelers running the ball 100 times yesterday. There's nothing more demoralizing as a defense than having your opponent run right over you all day long. And for 35 times yesterday, that's exactly what the Steelers did. Anytime the Bus can run outside the tackles against a team like the Ravens, the game is over. Baltimore looked like they were ready to pack it in sometime in the third quarter when the Steelers started the second half with a 8 and a half minute drive.
If I'm Ozzie Newsome, the Ravens GM, I'm thinking that this team is really in need of an overhaul for next season. The Bengals are much-improved and if the 2005 season started today, Baltimore might be picked to finish third in the AFC North. For starters, they might want to actually think about drafting a WR this year (I know, I know, T.O. screwed them this offseason, but at least if you draft a WR, he
has
to come -- unless his name is Manning), unless of course they're content with 9 foot 4 inch Randy Hymes running crappy routes and dropping Boller-balls. And speaking of drops, I'll be TiVoing "Monday Night Primetime" tonight because I'm pretty sure that Chris Hope's donkey-punch of Randy Hymes will be part of "Jacked Up" (I also wouldn't be surprised if the Bus running over Ray Lewis made it too -- of course that would mean that someone in the media would be implicitly admitting that Lewis is on the downside of a great career, so I won't hold my breath).
And as long as I'm disparaging Lewis (and as long as he still doesn't know where I live), I'll ask this rhetorical question (that I, of course, will answer): How funny is it that the Ravens twice cut James Harrison? It's hilarious. He had six tackles yesterday and single-handedly (pardon the pun) killed a Ravens drive on 4th down late in the game (he batted down a Boller pass). Lewis did have 5 tackles and 8 assists, but I think every assist came after he missed the initial tackle and ran down the field to jump on the pile. Solid.
Changing gears a bit, you know things are going bad for you when your All-Nerd kicker, Matt Stover misses a kick, and Jeff Reed is 2 for 2. I was skeptical this offseason when Reed had leg surgery (I was almost certain he was making excuses -- at least subconsciously -- for crappy kicking in 2003), but he has hit almost all his kicks solidly and right down the middle -- and most important, he hasn't missed any extra points. The only thing better than Stover missing his only attempt yesterday was watching him hit one of his lineman with a kick last week. He tried to blame it on a combination of the lineman getting pushed into the backfield and a low kick, but that guy could have been standing 20 yards downfield and it still would have nailed him in the head. In fact, it hit him so hard on the back of the head that it actually bounced over Stover as he gave chase.
Changing gears yet again, what was up with the CBS crew (which I think was the 6th stringers) being such Baltimore homers? Every time Boller completed an 8-yard pass, to hear the announcers tell it, you would've thought the Ravens had just won the Super Bowl. I wonder if every Thursday, the networks send out a memo to the crew announcing that weeks' Ravens game informing them that they must speak only positively about the mentally fragile Kyle Boller. "Say things like, 'Great 2-yard run,' and 'What an unbelievable screen pass!' and if all else fails, try 'Only Fassel could get Boller to hand the ball to Jamal Lewis like that!'"
Finally, it looks like Deshea broke a couple of bones in his hand, and in the press conference following the game, Cowher seemed like Townsend might actually be able to play in a few weeks with some kind of cast. Deshea is a very big part of this team, and in addition to Aaron Smith getting snubbed, he also has a legitimate gripe for being overlooked. Especially when you consider that Chris McAlister made the team, even though he's had an off-year and last week I thought he was doing his Stevie Wonder impression on that Marvin Harrison TD catch. Still, like I mentioned above, the Pro Bowl is basically a popularity contest, and the next few weeks are what's important. The Steelers smoked the Ravens 20-7, and this win not only ensures home field advantage throughout the playoffs, but almost guarantees that the Ravens will be sitting home after next week. Nice.