"...People were concerned that, OK, Duce isn't in there, what are we going to do? You know, I've been getting it done for a long time -- I'm not on the all-time (rushing) list because I look like this..."

- Jerome Bettis, explaining why Steelers fans had nothing to worry about when he replaced an injured Duce Staley Sunday.
As the fourth quarter was winding down yesterday and the game was well in hand, I turned to my buddy Andy and said something like, "The only bad thing about the Steelers dominating is that now they'll be all over the national news." And while on the surface that certainly ain't a bad thing, I'm always concerned about the Steelers falling victim to all the hype -- especially when it's coming from guys like Sean Salisbury or Joe Theismann.
I kind of liked the "under the radar" game the Steelers were playing up to about week five or six. That said, this is definitely the sort of problems you want to have as a fan. I can distinctly remember 12 months ago reading and re-reading the Steelers schedule and trying to convince myself that this team could win six or seven of their last eight games and would make the playoffs. And while there was scant national media attention -- and rightly so -- there was no shortage of local media coverage, and to call it anything short of brutal would be lying. I guess all of this is a very (very, very) long-winded way of saying that I'm certainly excited about the 2004 Steelers (especially after that 6-10 debacle from a season ago), but I'm also wary about a letdown. But if Cowher has preached anything this season, it's that the Steelers have a very long way to go, and the season is much to young to begin celebrating. OK, now to the good stuff.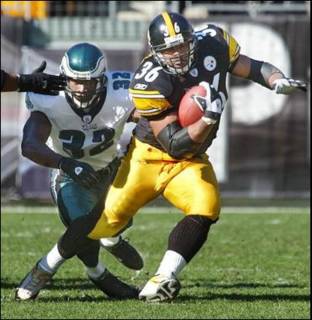 ...If you watched this game on a 9-inch television with pretty bad reception, you'd be hard-pressed to distinguish the Bus's performance from that of Duce Staley. Jerome was 33 for 149 yds and for the second straight week busted one for 20+ yards. When I found out Sunday morning that Duce was inactive, I rationalized the loss by saying that running back is one of the deepest positions on the field. It's certainly much better than Alan Faneca or Marvel Smith going down (or even Roethlisberger). Of course I was just trying to talk myself into believing it, but after the first series, I was pretty much convinced.
...Do you imagine when Brian Billick watches Roethlisberger throw the ball 18 times a game, that's how he envisioned Kyle Boller running the Ravens offense? While it's true that Boller averages about that many throws a game, 91 of his 96 completions have been for fewer than 20 yards. On the other hand, Roethlisberger uses the running game to set up the downfield passing attack. And while he didn't connect on any over-the-top bombs Sunday, he still connected on several big plays.
...Among those plays was the third down and seven from the Steelers 32 when the Eagles brought everyone and Roethlisberger hit Plaxico in stride down the left sidelines. What looked like a sure TD quickly turned into Barnum & Bailey's circus as Plax kneed the ball out of his hands and saved his own TD. Of course it was good to see Cowher laugh it off -- which is clearly indicative of a team that's running on all cylinders. I was telling Andy that the only person laughing harder than Plax on the sidelines was Hines Ward because he wanted to make sure he got back in the TD mix Sunday (I'm half-kidding).
Lost in all this was what unbelievable poise Roethlisberger showed on the play. He had a split-second to make a decision and he put the ball only where Plax could make the play. I remember thinking on more than one occasion during the first few drives that Roethlisberger does so many amazing things that you start to take them for granted. No slight to Tommy (whenever you begin a sentence, "No slight to ...," you're inevitably getting ready to slight someone, but I digress), but it could have very easily been a 0-0 game at the end of the first quarter because Roethlisberger was able to create so much because of his speed and strength.
...I'm always glad to see Hines make some plays because these last few weeks had the sneaking feeling that while he was happy with the teams' success, he wanted to be more involved in the offense (and I have no evidence other than my own two eyes, which are also responsible for predicting that Heath Shuler would be a Hall of Famer and Tom Brady was a scrub, so keep that in mind). Either way, when Hines is involved in the offense, the offense usually is successful, and Sunday was no different. What's particularly funny is that all week the local media guys were asking both Hines and Plax about T.O. and if they had any dances of their own, and they both remarked that they just want to get in the endzone and they'll let T.O. be T.O. Well, it only took six minutes before Hines scored on an end-around and then did his best T.O. dance impersonation -- which leads me to believe that Hines did in fact do a little dance practice last week. But apparently he didn't have a backup dance because when he scored again, he did the same one. The funniest part of the whole thing was seeing T.O. crack a smile and shake his head on the sidelines when he saw Hines mocking him (I think that was the last time T.O. smiled all day).
...While it was nice to see Jerome & Co. pick up the slack for Duce, some (OK, maybe a lot) of the credit has to go to the offensive line. The Eagles do a great job of pressuring the QB on passing plays, but the Pittsburgh front five controlled the line of scrimmage on running plays. To say Jerome was running downhill most of the day would be an understatement. And even when the Eagles run-blitzed right up the middle, the Steelers were still effective moving the ball on the ground. Even without Duce, this was one of the most dominating run performances of the year (of course, I could have made the same argument last week).
It was also good to see Verron Haynes make some big runs and have two really big catches (one on a Roethlisberger scramble and the other on a 26-yard screen pass). Also, props to Willie Parker for seeing his first regular season game-action. He had 3 carries for 14 yards and his first carry went for 10.
...Amazingly, I have yet to mention the defense. At the halfway point, Dick LeBeau gets my vote for coach of the year. When people talk about defenses that scheme well against their opponents, the two teams that are usually mentioned are the Pats and the Eagles. I think the Steelers also deserve to now be in that category. McNabb was 15/24 for 109 yards 0TD and 1INT. The Steelers were mixing coverages all day and did a good job of either pressuring McNabb into bad throws or actually sacking him. And after watching the preseason game where Pittsburgh missed sacking McNabb on at least four occasions (because of missed tackles), yesterday the defense didn't miss one tackle and were able to bring him down four times and force him into throwing a pick to James Farrior -- all the while keeping T.O. to only seven catches (and as a bonus, getting to see Polamalu lay T.O. out on a failed third down conversion).
And as long as I'm handing out imaginary awards, Willie Williams gets my defensive back of the game award. I think his strategy going into the game was, "whatever happens, don't get beat deep." And if that was it, he executed it to perfection. Not only was he blanketing T.O. most of the day, he also had a really big third down sack against McNabb (who had to outweigh him by at least 30 lbs). Did anyone even see Deshea Townsend Sunday (and that's a good thing if you didn't)?
...OK, the Steelers turn the corner at 7-1. Who, after the week two drubbing and the loss of Maddox would've believed this? It's amazing what a difference a year, a healthy offensive line, a great free agent running back, a resurgent wide receiver in his contract year, a rookie QB who plays like a Hall of Fame veteran, and a revitalized defense make. I just hope Cowher can keep these guys focused down the stretch -- and if the first half is any indication, this team could make everyone forget about how the 2001 season ended (but I don't want to get too far ahead of myself).