Remember how the
Batman T.V. series
use to ask a bunch of silly questions at the end of each episode to serve as a cliffhanger to keep viewers interested until the following week? Well, I've got a couple of questions to ask after the
Pats/Steelers game
.
Is it bad when the Steelers match last years win total eight weeks into the season? Am I the biggest jackass for lamenting that the Steelers would be making a
huge mistake
by taking a QB in the first round (to be fair, I was referring to Philip Rivers, not Ben Roethlisberger; still, if the Steelers got a CB like I wanted, they'd probably be sitting at 2-5 with St. Pierre running the show, but I digress)? Is Tommy Maddox the only guy on the planet who thinks he deserves his job back? Where are all those dopey Pittsburgh fans who were yelling that Cowher should be fired after a 6-10 2003 season?
I read a story in the New York papers yesterday about how the Giants GM Ernie Accorsi has had to answer a barrage of questions about why New York gave up so much to get Eli Manning when Roethlisberger was still on the board (they gave up two draft picks in 2005 to get the rights to Manning). I don't remember what he said, but the Pats game only reinforced why Roethlisberger might be the best player in the 2004 draft class (I forgot my point with this sentence, but I think I was trying to say that Roethlisberger might be a keeper).
Other than me, the greatest beneficiary of Roethlisberger's success has to be Plaxico Burress. He's caught TDs in three consecutive games and hasn't come close to dropping a pass in his vicinity. Kendrell Bell's going to have to have an 8-game stretch that's half Ray Lewis - half
Steve Lattimer
if he wants to re-sign with the Steelers. Otherwise, Pittsburgh should give Plax whatever he asks for, because he's quickly becoming Roethlisberger's favorite target (on a side note, it's amazing how easy it is to throw the fade route to Plax near the goal line when he's
actually
in the game; last year, "Crazy Legs" Mularkey liked to run plays near the goal line that necessitated Plax being on the sidelines; this may explain why Buffalo has two wins).
Defensively, I have one thing to say (before I say a bunch of other stuff): Charlie Weis, Dick LeBeau is your daddy. LeBeau must be the smartest guy in football, because his game-planning made the Patriots offense look like it was being run by Kyle Boller. Joey Porter easily had his biggest game of the season, and Willie Williams did a lot to assuage any concerns that Chad Scott would be missed (a couple of things here; I just learned the word "
assuage
" yesterday, and in what lifetime did you think you'd hear someone utter the phrase, "...concerns that Chad Scott would be missed..."). I was a bit surprised to hear Corey Dillon was a late scratch, and consequently, the Pats weren't able to test NT Chris Hoke -- who played a solid game (or at least I guess he did, because I didn't hear his name a lot).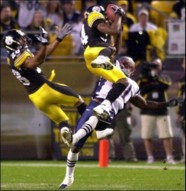 The secondary had yet another strong game (when was the last time you could say that -- no, seriously?), and my main man
Ike Taylor
had maybe the most acrobatic interception I've seen in a long time. Quick aside: It's good to see Ike have a strong game -- especially after losing every available job possible short of being the guy who carries the headset chords around for Cowher. In addition to having the interception, he also had some big tackles on special teams. Good for him.
OK, it doesn't really make sense to do the usual "Good, Bad & Ugly" this week only because I'd be hard-pressed to find anything negative to say about the Steelers after this performance; instead, here are some random thoughts I had while watching the game:
...Does anyone know how to get in touch with the dumbasses at CBS who decide which game is going to air? With 2:00 to go in the KC/Indy game, the brain trusts at CBS thought it prudent to stay with that game, even though (a) Indy was down by 10, and (b) The Steelers/Pats game had already started. They didn't switch over to the Pittsburgh game until they were down 3 points with 10:27 left in the first quarter. Maybe I'm overreacting (I'm sure I am), but watching the Steelers is easily the highlight of my week, so the least CBS can do is indulge me, right?
...How about this
sequence of plays
in the first quarter:
(1) B. Roethlisberger pass to P. Burress for 47 yards, TOUCHDOWN.
(2) T. Brady sacked at NE 23 for -6 yards (J.Porter). FUMBLES (J.Porter), RECOVERED by PIT-K.Von Oelhoffen at NE 27.
(Pittsburgh goes on to score a TD on the Roethlisberger to Plax fade route)
(3) T. Brady pass intended for B.Johnson INTERCEPTED by D.Townsend at NE 39. D.Townsend for 39 yards, TOUCHDOWN.
Unbelievable. These five minutes set the tone for the rest of the night. Leading 21-3 going into the second quarter took a lot of pressure of Roethlisberger, opened things up for Duce, and put even more pressure on a New England offense that looked confused most of the day.
...I'd love to hear what all those fans are now saying who were yelling and screaming that Cowher should've been fired last offseason. I'm usually not one to dwell on stuff like this, but I thought it was pretty annoying at the time, and I can think of nothing better than the Steelers starting the season 6-1 and beating the crap out of the defending Super Bowl Champions to shut up all those dopes.
...Of course, these were the same jerks who couldn't be vitriolic enough in there hatred of the Bus. Well, if the previous six games weren't proof enough, Bettis rumbled (and I do mean rumbled) for 65 yards on 15 carries and busted a 29-yard run late in the game. He's all but obliterated any chances of breaking the single-season TD/yards per carry record, but I guess it's a small price to pay to snap a 21-game winning streak.
...Is there anyone who's still unsure about what type of player Plax can be? A lot of people said he took 2003 off, but I'd disagree (at least a little bit) because the Steelers offense was just short of awful last season, and given that Maddox had about a half a second to get rid of the ball, it's hard to put the blame squarely on Burress for lackluster numbers (
Hines Ward's numbers
in '03 were similar to '02, but I consider that an unbelievable exception). Of course that doesn't excuse the dropped passes, but in the overall scheme of things, I still think Plax's best years are ahead of him, and the Steelers have to re-sign him.
...I wrote
last spring
that the Pittsburgh media was way off the mark when they were belly-aching that the Steelers blew another chance to improve during the offseason because they didn't sign a lot of free agents. I was quite happy with the Duce Staley signing and cited the fact that the Redskins were one of the best teams in the league in April (due to free agent signings), but usually found themselves near the bottom of the league come the regular seasaon (and 2004 looks to be more of the same). My point is this: Duce Staley may be the best free agent pickup for the Steelers since they signed Jeff Reed (just kidding). Honestly, his performance, coupled with an offensive line that's improved 5,000% since last season, has made Roethlisberger's transistion from the MAC to the NFL about as smooth as possible.
...After the game, I was actually wondering if Willie McGinest was injured and didn't play because I didn't hear his name mentioned once. Well he was out there, and you can ask the Bus about it (from today's
Post-Gazette
):
Jerome Bettis made it 8 for 8 when he scored from 2 yards in the third quarter to give the Steelers a 31-10 lead. He has not failed in eight series to put the ball in the end zone once inside the 5.

After he came to the sideline, he mugged for the Heinz Field scoreboard, flashing two fives with his fingers and then putting his index finger to his lips in a quiet signal. It was his way of answering Patriots linebacker Willie McGinest, No. 55, who questioned Bettis' ability last week and status as a backup to Staley.

"Early in the week, he said some things about him not knowing where I was," Bettis said. "I appreciate his concern about what team I played for. Yeah, I do play for the Pittsburgh Steelers, and I'm here."
Your bad Willie.
...CBS pointed this out, and I had no idea at the time, but Roethlisberger also has his own personal winning streak going. Since last fall, he's won 18 consecutive games (including this game). Not bad for a guy who would have been passed over if Philip Rivers was still on the board (everyone let out a collective sigh of relief).
...How are these statistics:
Time of possesion: Patriots - 17:02; Steelers - 42:58
Rushing yards: Patriots - 6 rushes, 5 yards; Steelers - 49 rushes, 221 yards
Turnovers: Patriots - 4; Steelers - 0
This is easily the biggest win for the Steelers since the 2002 playoff game against the Browns -- and it's a little payback for the "whuppings" (plural) the Pats put on us in the 2001 AFC Championship and the 2002 opener. Still, as my buddy (and Pats fan)
Aaron Schatz
told me after the game, "...if you are gonna lose for the first time, it might as well be on the road to a very good team. See you in the AFC championship!"
I'll take that.