Bill Belichick is legendary for being about as animated as a corpse during his press conferences, and avoids making any comments that could be used as bulletin board material for that weeks' opposition. During yesterday's Q & A, Belichick was so effusive in his praise of Cowher and the Steelers, you'd half believe they were dating (This is from the
Pittsburgh Post Gazette's Black & Gold Insider
).
Q: Coach [Bill] Cowher has the longest tenure in the NFL at one team. Do you have any theories on how he has been able to do that?

BELICHICK: Well, he is a great coach. I have tremendous respect for Bill. We go back to when Bill was the defensive coordinator at Kansas City. He coached the secondary and I was the defensive coordinator at the Giants and I coached the linebackers. It kind of switched somewhere in the late 80's, I forget exactly what year it was. Bill came to New York and we spent a full day together, like a Saturday, 12-14 hours whatever it was and I told him everything I knew about linebacker play, so that took about a half-hour. Then Bill told me everything that he knew about secondary play and that took a long time. We kind of exchanged a lot because our positions, even though we were both coordinators, as position coaches we had different spots there, so we really worked together. I think that was the start of, what I think is, a really good relationship with Bill. It was tough when we were in the same division with Cleveland and Pittsburgh. It was a lot tougher on me because he usually won those games. We have maintained a good friendship through the years. I have a lot of respect for Bill. I think he is the longest tenured coach in the NFL because he is an outstanding coach. He has done a great job there. They have had a lot of success. I love watching him coach. I think he represents the game with his passion for it and his intensity and as a special teams player, he brings that kind of mentality, that real blue collar and tough mentality to the game as a coach. I have a lot of respect for him. I don't think there is any secret why he has been doing it for a long time. He is very good at it.
The first thought that comes to mind is "take Belichick's rosy assessments with a grain of salt." Seriously though, after listening to Belichick, you'd be convinced that the Patriots don't stand a chance. Of course some dope thought the same thing for the last 21 weeks (OK, maybe no one in Arizona thought that during the Cardinals week 2 matchup with the Pats, but you get the point).
Can Pittsburgh win Sunday? Sure. And if the Steelers establish the run early, all the trick plays and gimmicky defenses the Pats throw at Roethlisberger won't really matter. Of course, the Pats have trailed three different times this year, and we know how that turned out. Also, in yesterday's press conference, Cowher mentioned that Kendrell Bell is questionable. I'm not so sure he should play if for no other reason than Larry Foote has done a good job, and is in game shape; and Bell hasn't been in a game since the first week of preseason. For some reason I don't think the Patriots are the team to help get you back in your rhythm defensively.
***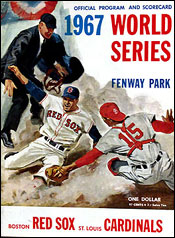 Well, the Red Sox are up 3-0 and Pedro
circa 2000
was on the mound last night. And while he retired the last 14 batters he faced, the moment of the night for me was
his
first at-bat. Why was Pedro wearing a
direct-protect
on his thumb his first time up? Given that he didn't even offer at a pitch, he might as well have gone up there with the water cooler on his head.
...Jeff Suppan's baserunning blunder was so bad I wouldn't even expect it from the likes of Millar, Bellhorn & Associates. Anytime David Ortiz has time to catch a ball, look bewildered, run halfway to the mound and fire a strike across the diamond...and you're still tagged out, you're an awful, awful baserunner. Speaking of third base, when did
Jose Oquendo
start packing on the pounds? Is it just me or does he look just like
Luis Guzman
?
...Speaking of weight, if you took Tom Gordon, made him pull an all-nighter at the Waffle House and then gave him some liposuction injections in the neck and stomach areas, you'd have Ray King.
...Once again, it looks like I misspoke when talking about Ortiz as a defensive liability. Not only did he throw out Suppan at third, he also had a nice pick of a Bill Mueller throw. And speaking of defensive gems, what about Manny turning two in the outfield. I can't remember the last time he not only caught the ball in the air, but also threw someone out at the plate. Solid.
...Pedro was relatively humble during the post game interview by uber-dope, Chris Myers. Of course Myers had to ask about the "Who's your daddy" comment Pedro made at the end of the regular season, and Pedro for the 2,000th time had to explain that he was frustrated, it was in the context of that game, blah, blah, blah. Of course Pedro finished the interview by saying that he "could be anybody's daddy" on most days, and especially after performances like game 3. Nice.